Description + -
All-in-one desktop robot arm for laser engraving, 3d printing and more!
You will receive a Rotrics all-in-one desktop robotic arm including everything you need for making and robotics developing:
High-precision robotic arm
3D printing module
Laser engraving and cutting module
Pen holder module
Pneumatic kit
3.5'' touchscreen
Rotrics studio software
PLA filament
MDF wood plate
Laser safety goggles
And More
Expansibility: You can combine the robot arm with other accessories to bring the power of your Rotrics arm to the next level, such as a Linear Rail Kit to get a much bigger working area. 
Versatile: You not only able to get a useful tool for your maker space but also a robotic kit to learn more about robotics and developing. 
Specs:
Repeatability precision: 0.05mm
Build Volume: 8.6'x8.6'x14.9' or 220x220x250mm
Dimension: 6.8'x5'x12.4'  or 175x128x315 mm
Product Weight: 5.29lbs / 2.4 kg
Early backer unboxing video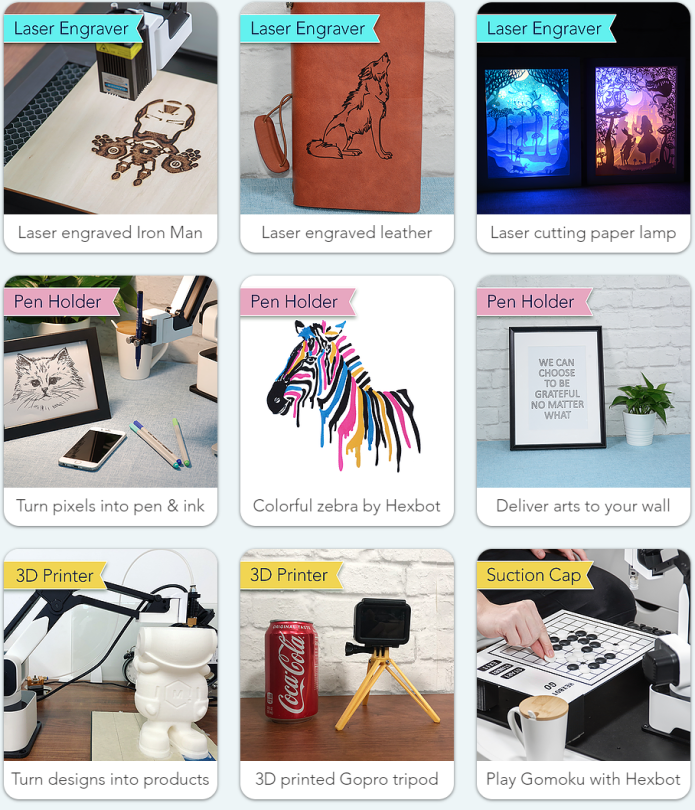 Build for makers and designers to bring their ideas to life, Rotrics's functional modular design is aimed to complete any task from simply grasping, drawing to 3D printing and laser engraving.

The decelerator is the core of a robotic arm, our patented decelerator design reduces the gap between gears, allowing 0.05mm extremely high repeatability. Empower the capacity for high precision laser engraving, 3d printing even lightweight industrial applications.
We hate handling screws and cables when using an intelligent product. That's why we creatively pack every function into a module to remove the unwanted screws on the end effector. Switch out modules in just one click!
Rotrics gives you an intuitive and interactive way to control and bring your ideas in just a few clicks with our software.
To keep Rotrics easy-to-use, we integrated Blockly into our software, which allows dragging and placing the code blocks to control Rotrics. Control a robot arm is as easy as play a board game.
We also provide an API for experienced developers to control Rotrics in Processing, Python, and G-code.
To make controlling Rotrics even easier, we designed the 3.5-inch touchscreen allows you to check the status and command Rotrics within your hand. Download the G-code files to the SD card and start drawing/engraving/printing. No need to keep connecting to your computer.
Rotrics can be easily transformed into a laser engraver with the laser engraving module. It is capable of engraving on wood, leather, paper, and other materials. You can make a meaningful gift for your friends within a few minutes.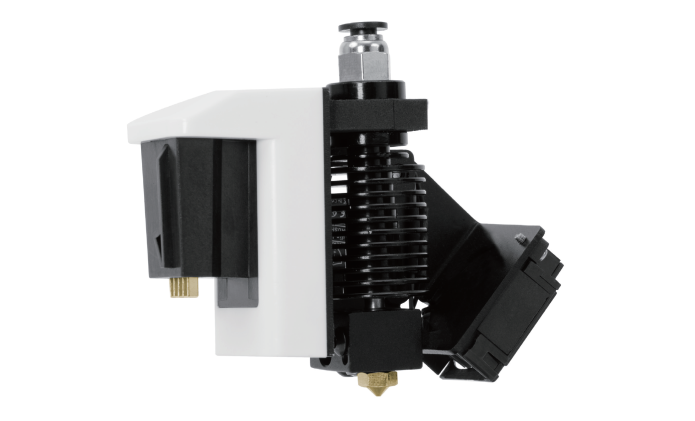 With Rotrics 's high precision, you can print a 3D object with the 3D printing module. The build volume of Rotrics is bigger than 220x220x250mm so you can print some big model at once.
Picking and placing objects can be easily performed with the help of a suction cup and soft gripper. Perfect for lightweight industrial applications.
Don't know how to program? No worries. With the multi-function button on the base or the touchscreen, you can drag the arm and record the movements and make Rotrics repeat the movements. Drag, record, and play - just that easy.
With the other accessories such as computer vision kit and linear rails, we can bring the capability of Rotrics to the next level. You can also design your own accessories for your targeted application.
Combining with OpenMV, we can perform all projects requiring computer vision. Build a mini production line on your desk or use Rotrics in an industry environment.

Want to get a bigger moving area? No problem! After putting Rotrics on the linear rails, we will get a much bigger moving area with Rotrics. Or by combining Rotrics with the conveyor belt, we can build a mini production line on our desk.
Want to have more than one Rotrics arm to complete your task? Yes, we can combine two Rotrics to do the job with our software.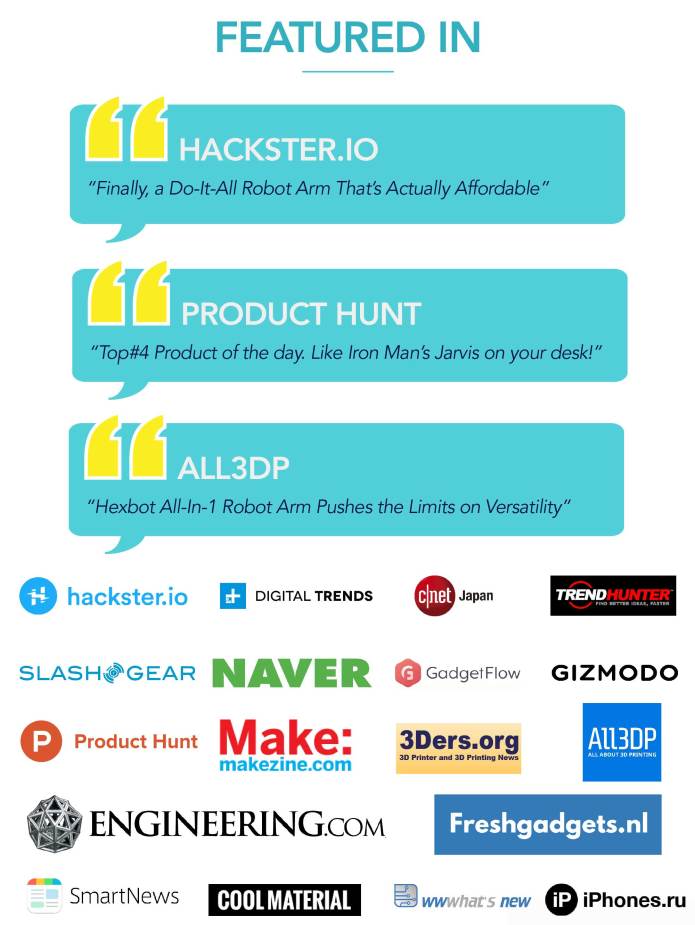 Spec + -
Specification
Basic
USB-C x 2, External Motor Ports
6.8'x5'x12.4' 175x128x315 mm
Laser Engraving
wood, bamboo, leather, fabric, paper, non-transparent acrylic,Anodized Aluminum, etc
steel, cooper, glass, gem, transparent material, reflective materials, etc
3D Printing
8.6'x8.6'x14.9' 220x220x250mm
PLA, ABS, Wood, Carbon Fiber
In the box + -
Roctrie app
In the box
1x Rotrics Arm
1x Pen Holder Module
1x Laser Engraving Module
1x 3D Printing Module
1x Pneumatic Module
1x Air Pump Box
3x Suction Cup
3x Soft Gripper
1x Touchscreen
1x Laser Safety Goggles
1x Extruder
1x Build Plate
5x Printing Sticker
5x Wood Plate
1x DC Y Power Splitter
1x Pen
1x Power Supply
2x Dual Type-C Cable
1x Type-C Cable
1x Tweezers
1x Backup Nozzle
1x Hex Wrench
1x Filament Holder
Shipping Policy + -
Shipping Policy
Shipping Time
The first batch Kickstarter order has been shipped and we will fulfill all the orders in mid-July. If you place the order today, your order will be shipped in mid-July.
United States
• International Express: 5-10 Business Days
• Ocean Freight: 30-35 Business Days
EU
•International Express: 5-10 Business Days
•Eurasian Rail: 25-30 Business Days
Asia
•Express: 5-7 Business Days
Shipping Cost
We offer FREE shipping worldwide for orders above $1000 USD. Orders below $1000 USD will be charged $45 USD for Ocean Fright or Eurasian Rail or $80 USD for International Express. VAT is not covered.
Shipping Partner
We are partnered with major carriers around the world and depending on where you are, your order may be shipped by DHL, UPS, FedEx or your local postal authority.
FAQ + -
Frequently Asked Questions
What's the warranty of Rotrics?
We will provide a one-year warranty from the day you receive the product. We will guarantee all modules and Rotrics arm. We will strive to replace or repair any defective products when used in accordance with our instructions. We require proof of pledge/purchase. The warranty applies only to the original purchaser. The consumables are not covered in the warranty.
Will there be any manuals or video tutorials?
Of course, we will provide Quick Start Guide and video tutorials of using Rotrics drawing, laser engraving and 3D printing, including unboxing, use of software, etc. Visit our Tutorials page for more details.
What power supply unit will be shipped with the product? Will it work in my country?
The power supply unit can run on 100-240V AC and can be used universally throughout the world. We will ship to different regions with the region's corresponding power plug.
Are taxes, VAT and/or duties included?
Taxes, VAT and/or duties are not included in the prices and may be added in accordance with your local regulations.
Reviews + -
Hardware is a marvel, software is not mature yet but usable
It took me a few days to work around bugs I encountered using it but now that I know them, I'm really starting to enjoy my Dexarm! The SW being a work in progress, this is extremely promising.
Good products at low prices
The price is also cheap and it is enough for me.
Great Arm
Dear Rotrics Team,
Once again, thank you very much for your service and Great product. I'm very satisfied with what I have received. Hold what you have and grow. Think about some bigger industrial arm with for example cnc or soldering/ desoldering functions. Keep good work and greeting from Poland!
awsome
it a workers best friend it is basically jarvis from iron man